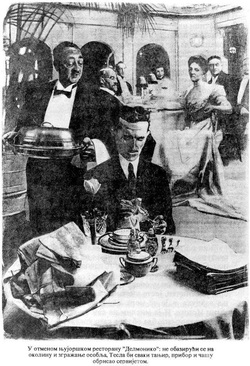 It appears that Nikola Tesla may have had some form of Obsessive Compulsive Disorder (OCD). He was obsessed with the number 3. Quite often he would eat his meals by himself at various restaurants and request that he have 18 napkins (divisible by three) placed on his table so that he could clean the glasses, silverware and plates. He did this because he seemed to fear germs and that is possibly the reason why he didn't like shaking hands with anybody. Tesla also couldn't stand the texture of human hair and this aversion to human contact may have contributed to his life-long celibacy. He claimed that celibacy was helpful for his scientific abilities and strengthened mental power.
Tesla was sensitive to touch, had an acute sense of hearing and sight. He was repulsed by jewelry on women especially pearl earrings. If he read one book by an author, he felt compelled to read all of the authors works. After walking around a city block once, he would feel compelled to walk around another two times before entering a building. The hotel room in which he lived for many years at the Hotel New Yorker was room number 3327 (divisible by three).
In his own words "All repeated acts or operations I performed had to be divisible by three, and if I missed I felt impelled to do it again, even if it took hours."
Some say there is a fine line between madness and genius. Such were the peculiarities Tesla had, and if he didn't have them or was treated for them we may not have the electrical luxuries we enjoy today eg- AC electricity, radio, television, cell phone technology and Wi-Fi.