NIKOLA TESLA at a restaurant with his Croatian friends, the Zivic brothers, all of whom were boxers.
The five brothers were boxers and were known as the "Fighting Zivics". The boxer Fritzie Zivic was known as the "Croat Comet". That's Fritzie on the right with his arm resting on the table.

Nikola Tesla was a fan of the champion boxer Fritzie Zivic, known as the Croat Comet. On this occasion three of the five brothers dined with Tesla.

Seated left to right- Eddie Zivic, Nikola Tesla, Pete Zivic and Fritzie Zivic.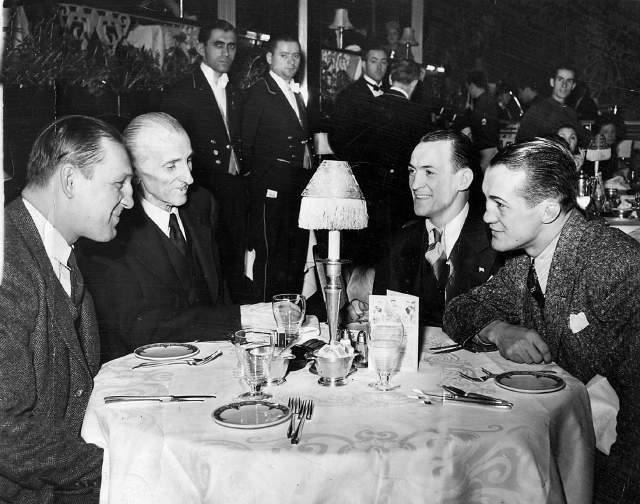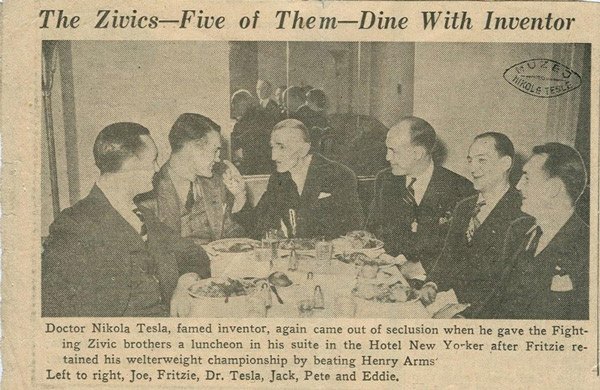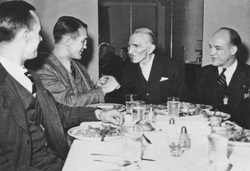 Nikola Tesla with his Croatian friends. Tesla put on lunch for the boxer Fritzie Zivic, known as "The Croat Comet", and his brothers in his suite in the Hotel New Yorker, 1941. Tesla sponsored Fritzie and attended his bouts at Madison Square Garden.
Even though Tesla lived in America for so many years he never forgot about the Croatian people, he had many Croatian friends who were good to him, and who helped him. Tesla enjoyed a long friendship with Croatian sculptor Ivan Meštrović and they exchanged many telegrams. Tesla's friend Zlatko Baloković the famous Croatian violinist played at Tesla's funeral. Marijan Matijević was known as the strongest man in the world at the time who came from the region of Lika in Croatia where Tesla came from. Marijan organised some shows for Tesla in 1927 and donated the money earned from the shows to Tesla for his inventions.

Seated left to right- Joe, Fritzie, Nikola Tesla, Jack, Pete and Eddie.