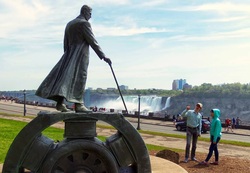 In the book, 'Nikola Tesla, Correspondence with Relatives', Nikola wrote a letter to his uncle Colonel Pajo Mandić in 1893 who was stationed in Hungary at the time.
"It looks like the machines of my system will be used in transmission of power from Niagara Falls. I will be able to tell you shortly that in the main many of my patents will be utilised in this gigantic project....I have been acclaimed more than anyone in my discipline; that is what they tell me. I received awards after awards and that makes me push ahead. There are always ideas before my eyes."
And so began the electrification of the world with Tesla's system of distributing Alternating Current electricity over long distances to our homes.