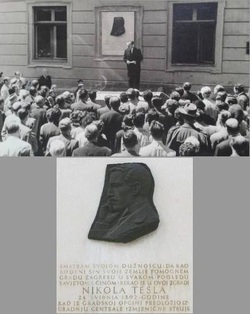 A speech given at the unveiling of a plaque dedicated to Nikola Tesla in Zagreb, Croatia. Not sure of the year in which the plaque was unveiled, maybe someone out there knows.
Tesla delivered a lecture on Alternating Current electricity in this very building when he visited his homeland in 1892.

"I consider it my duty as a son of my country to help the city of Zagreb in every way with my advice and work." ~ Nikola Tesla.