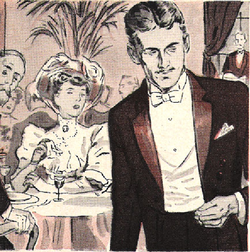 Nikola Tesla never married, remaining celibate his whole life. He was a recluse and lived all of his adult life alone.
.
The famous French actress Sarah Bernhardt expressed interest in Tesla. One time when Nikola was sitting in a café with a friend, Sarah Bernhardt happened to be there and dropped her handkerchief near him. Nikola quickly stood up, grabbed the handkerchief, and bowing low he handed it back to her saying: "Madamoiselle, your handkerchief." Without even glancing at her smiling face he turned around, went back to his chair, and continued his conversation about his experiments on a world wireless system of power transmission.

Tesla once said: "I do not think you can name many great inventions that have been made by married men."
"I believe that a writer or a musician should marry. They gain inspiration that leads to finer achievement. But an inventor has so intense a nature, with so much in it of wild, passionate quality that, in giving himself to a woman, he would give up everything, and so take everything from his chosen field. It is a pity, too; sometimes we feel so lonely.